I told daddy I wanted to redo my guitar since it was starting to look really bad. Daddy asked what colors I wanted my guitar to be and I told him Red and Black. When daddy was off on Tuesday we went to get some supplies.
Black Paint – Check
Red Paint – Check
Sand Paper – Check
Putty – Check
Putty Knife – Check
So here is the photo of my guitar before we did anything: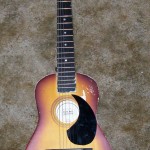 Daddy and I sanded the guitar so we could fix all of the dents I made going crazy rocking the guitar everyday since I got it.
So daddy kept working on it and now it is ready to paint.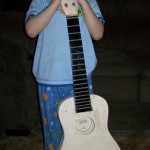 Daddy painted the neck of the guitar black and then he painted the guitar red. Tonight we took all of the tape off of it and put the tuner keys back on it and restrung it. Man it looks so cool and I am rockin' on my RED guitar now. This was a great daddy and son project if you ask me.